Reblogging for future reference:
International Liberty
Yesterday, I wrote about the newest edition of Economic Freedom of the World, which is my favorite annual publication.
Not far behind is the Tax Foundation's State Business Tax Climate Index, which is sort of the domestic version of their equally fascinating (to a wonk) International Tax Competitiveness Index.
And what can we learn from this year's review of state tax policy? Plenty.
…the specifics of a state's tax structure matter greatly. The measure of total taxes paid is relevant, but other elements of a state tax system can also enhance or harm the competitiveness of a state's business environment. The State Business Tax Climate Index distills many complex considerations to an easy-to-understand ranking.
That's the theory, but what about the results?
Here are the best and worst states.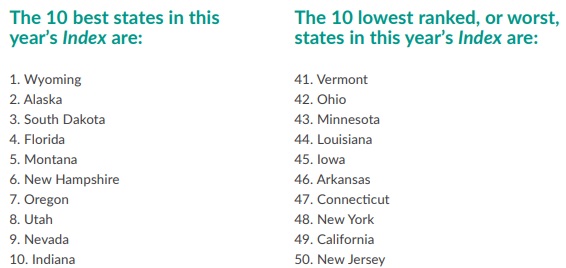 If you pay close attention, there's a common thread for the best states.
The absence of a major…
View original post 584 more words